This VR Ed-Tech company offers virtual spaces for use in K-12 classrooms, but was missing some important group management tools for participating teachers.
Uncanny Groups can be used to group students into "classrooms", but a student might change schools halfway through the year or move up a grade and land in a different classroom at the end of the year. In those situations, you want the student to retain access to their courses & progress, but you also don't want any teacher on the platform to be able to add a student to their own group/classroom since that would allow any teacher to add any student and gain access to their information even if they aren't actually their teacher. To top it off, many younger students do not have email addresses which means it would be difficult to know which student to transfer given only their name and no unique identifier.
What is

The Solution

Creating a Student Transfer feature
A button was added to the teacher dashboard to allow them to move students from one classroom to another: Teachers can request to transfer students to another teacher's classroom group, primarily for use between years. This ensures that only the students' actual teachers can access their information and nobody can add students to their group without explicit permission. Since the teacher with the student in their classroom must "send" the student to their new classroom, any ambiguity about which student to add coming from lack of an email address is also solved this way.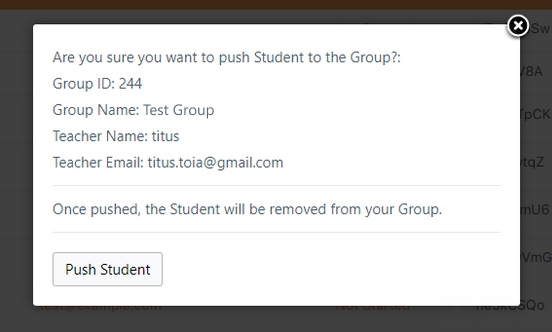 Adding support for students without email addresses
Given that the students served by this site are minors and often don't have email addresses, the client needed to be able to delegate account management to teachers, and allow student creation without an email address. A system was put in place to allow enrolments with or without emails by extending the existing form for adding new users. The ability to enroll students via CSV import was also improved to allow adding students without passwords in bulk uploads.